So, as some of you might have noticed, when our good friend Tony Tripoli moved to Las Vegas the weekly Iron Tiger Tuesday posts left with him. Well it's about time we brought them back. Keep an eye out for weekly updates on upcoming events, guest artists, conventions and guest spots you can catch us at, etc. We'll also just be posting pics and info from our day to day.
As many of you probably already know Gabe, Colin and Cody will be at this years Ink-N-Iron convention in Long Beach. They'll be sharing a booth with Chris Quidgeon, Bare Knuckle Irons, and Work Horse Irons. Following the convention Gabe will be guest spotting at Spotlight Tattoo and maybe checking out Martlet Tattoo and HB Tattoo. Details on when coming soon. After that they'll be in Las Vegas guest spotting at Downtown Tattoo and Showroom Tattoo. They'll also be checking out Gianni Russo's brand new Broken Dagger Tattoo.
Our bud Mikey Wheeler from Mercy Seat Tattoo is gonna be here tattooing through Saturday.  Stop by and set up an appointment or just say hey.
Katy got back from her trip to China about two weeks ago. Knocked this one out the other day.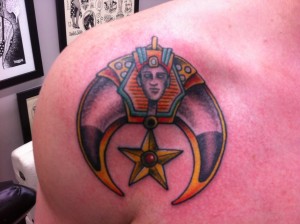 Lee finally decided to take the plunge into some more visible tattoos yesterday.  Gabe did this bitchin' panther on his forearm and started a gipsy girl head.
Here's a couple sheets of Sailor Jerry flash that Dan painted recently.  He's doing a 50 free Sailor Jerry project so if your interested you should get at him.
Angie did this jellyfish on a walk-in.
It seems like every time I turn around Cody's working on a painting.  Here's one finished and one in progress.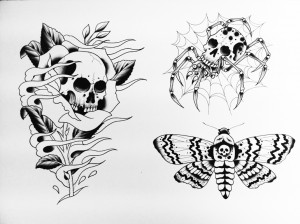 Here's a couple more Gabe did last week.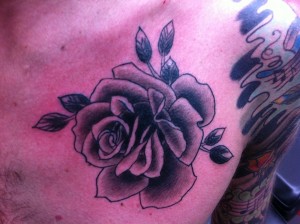 This girl is piecing together a Japanese sleeve from Morgan.  They did this one last weekend.
That's about it for this week.  I know this is technically posting on Wednesday but, like I said, the idea is to get back to doing this every Tuesday so keep an eye out.  Some of the technical aspects of these posts will improve once I start to get a better handle on this WordPress stuff.  Take it easy guys.
-Awkward Jeff