Iron Tiger Tuesday
Well, the big news this week is that Katy is no longer tattooing at Iron Tiger.  She had a great going away party at Roxy's the other night complete with karaoke, drunken co-workers and remote control shark balloons.  From here she'll be traveling around doing guest spots.  We'll have a post up soon with more information about how to get ahold of her for appointments.  I think I speak for everyone at the shop when I say it really sucks to see her go.
To help fill the chasmlike void that Katy left behind, Phil has moved back from Minnesota to take her place.  He'll be tattooing full time from here on out.  Call the shop (573.499.1200) or just stop by for appointments and walk-ins.
Gabe, Colin and Cody are leaving this week for Ink and Iron in Long Beach.  They'll be gone for a couple weeks so if you have tattoos you need worked on you should get at them quick.
Oh ya, both Dirty Cody and Randy Schnar got " fuck Jeff" tattoos this week.  Enjoy.
Tattoos by Gabe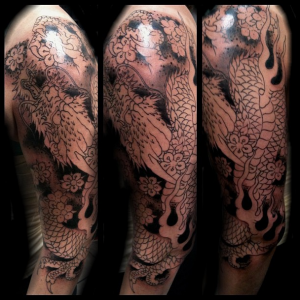 Painting/Tattoo by Cody
Tattoo by Colin
Tattoos by Lars
Tattoo by Dan
Painting by Angie
I work with fucking assholes my best friends!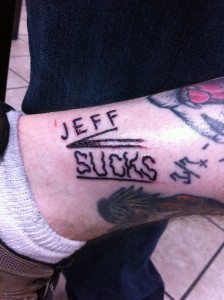 Take it easy guys.
-Awkward Jeff