Iron Tiger Tuesday
Hey thanks for checking out this week's update. We had a bunch of our friends come through to visit lately.  Tally from The Martlet Tattoo Parlor in LA and Patience from Trader Bobs both stopped by over the weekend. Jon Osiris came through a day or two later. Gabe outlined a huge "Old Man and the Sea" thigh piece on our friend Max.  He and Lars have also been working on a project that may eventually end up on a tattoo themed series of Bic lighters.  Cody spent the day on Saturday doing an appointment over at Tattoo You which was cool considering that's where he first started tattooing back in the day. Dan spent the weekend tattooing at Daddy O's out in IL. Colin started a Super Mario half sleeve.  Phil sent me a treasure trove of tattoo pics he'd been hoarding for awhile.  You can check them out along with the normal weekly pics below.  Cool people, cool paintings, cool tats; that was our week. No complaints.
Gabe, Lars, Moe and Morgan will be at the West Texas Tattoo Convention in San Angelo, TX from Feb 21-23.  Go keep them company and get a panther head or something.
Tattoo by Gabe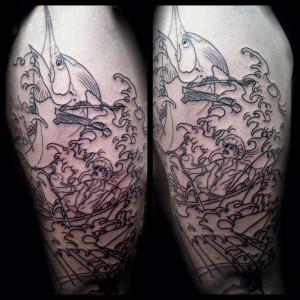 Tattoos by Cody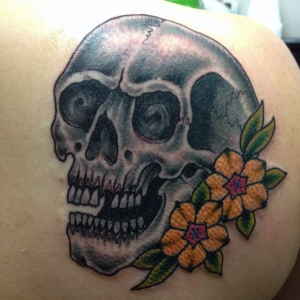 Tattoos by Colin
Tattoos by Phil
Tattoo by Casey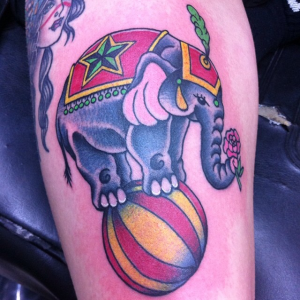 Have a good week guys. Later.
-Jeff