Iron Tiger Tuesday
Well it's that time again, welcome back for another Iron Tiger Tuesday update.  It's been a whirlwind week for everyone at the shop.  Between weddings, friends visiting, guest spots, baby birthdays, bro tats, etc. it was hard to keep an eye on what was going on around the shop.
Obviously, the big news of the week was Dan and Lauren's wedding on Saturday.  It was held at Les Bourgeois Vineyards which overlook the Missouri River.  The ceremony and reception were fantastic.  We closed the shop for the day so that everyone could attend.  Our friend Jen even managed to make it in from LA.   Tony and Jasmine came in from Las Vegas to shoot the photos for the wedding so if you're looking for wedding pictures I'd start with them.   All in all it was an amazing day and I feel honored to have been asked to be a part of it.  Congratulations you guys.
Aside from all the outside happenings of the week the shop seemed to run as smooth as usual.  It was your typical wash of walk-ins and appointments.  Colin and Katy did guest spots at Iron Age over the weekend.  Moe and Morgan went down to Florida for a few days.  That's about all I've got for now.  Lets look at some pictures.
Lars started the line work on a Missouri folklore monster half sleeve on our friend/counter guy Adam.  He also did that bitchin' hot air balloon.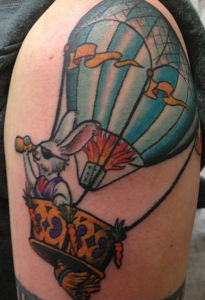 Gabe doing a session on Tony's back piece.  Also a rad Tiger Fly.
Jerry demon head by Dan.
Moe did this cool pin-up on a walk-in.
Yes Dan, we're all very happy for you…now quit dicking around on your "honeymoon" and get back to work.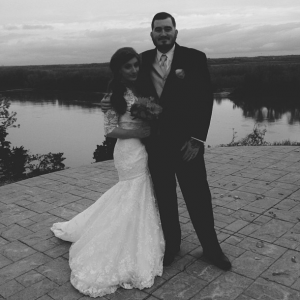 That's it for this week guys.  Hopefully I'll have more pictures for you next week.  Take it easy.
-Awkward Jeff