What's up guys, I've got another Tuesday update for ya.  What sticks out most about this past week is the fact that we had a shooting happen near the shop on Friday night.  We had already closed up for the evening but a few of us were still there and saw/heard it go down.  Apparently, some cowardly, hood rat mother fuckers opted to open fire into a crowd of people as opposed to handling there shit like adults.  Thankfully no one died but there were three people injured.  I've had it up to here with this shit.  That could have been any one of my friends (or yours) out for a good time on a Friday night just wanting to cross the fucking street.  I guess we can all be thankful that marksmanship wasn't a high priority for these pricks.
But you're not here to listen to me rant; you want to know whats going on with the shop.  Well alot of the guys were still out of town this past week.  Gabe, Colin and Cody were out doing guest spots at various places in CA and Las Vegas.  Phil spent the week tattooing at Trader Bob's in STL.  Our friend Casey came up to cover some more shifts while the guys were gone.  As of some time tonight everyone should be back in town and back to work by tomorrow.  Feel free to call the shop (573.499.1200) or just stop by to figure out when any of your favorite artists will be available.
I didn't manage to take/steal as many pictures this week as I usually do but here they are.
Tattoo by Lars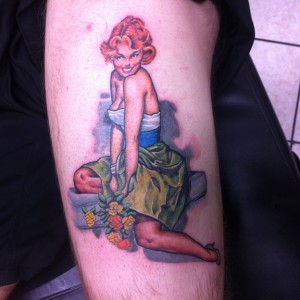 Tattoos by Dan
Tattoo by Moe
First cover up session/painting by guest artist Casey
Take it easy guys.  See ya next week.
-Awkward Jeff