Hey thanks for coming back to check out this week's post.  We had alot of fun this week.  Our friends Patience from Trader Bobs and Casey came out again to cover shifts for Moe and Colin while they were out of town over the weekend.  Everyone seemed to pass the time between customers by tattooing each other.  There's a pretty priceless picture of Morgan doing a Butthead tattoo on our friend Wally. Lars had a college kid job shadowing him all day Friday for some paper he was writing.  He ended up getting a tattoo from Lars off of one of his old acetate stencils.  He's been pumped on doing those lately. Gabe got to work some of his portrait magic on Saturday.  Walk-ins kept everyone buys all week.  Alot of cool painting got turned out as well.
For our Las Vegas friends, Gabe will be tattooing at Showroom Tattoo Parlour at the end of October.  You can email him or leave your number for appointments.  Keep checking the post for the exact dates he'll be out there.  Also, Lars will be tattooing at the St. Louis Old School Tattoo Expo November 8-10.  He's gonna be doing more tattoos from his acetate collection if you're interested.
Tattoos by Gabe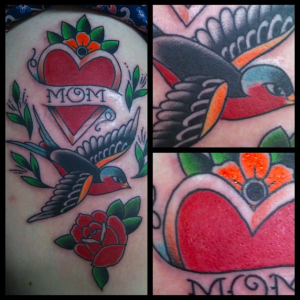 Tattoo/Painting by Cody
Tattoos by Lars
Tattoo by Colin
Tattoos by Phil (text on second tattoo not by Phil)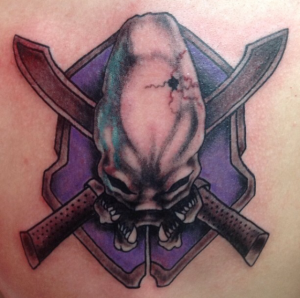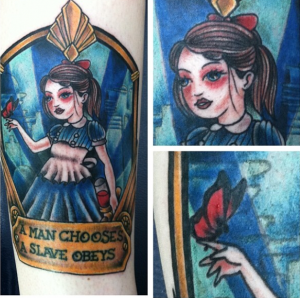 Tattoos by Moe
Tattoo Fix Up by Morgan
Tattoo/Painting by Dan
Tattoo by Patience
Tattoo by Casey
Moe tattooing Patience
Morgan tattooing our friend Wally B
A cool pic our friend Talley got of us last weekend.
See ya next time guys.  Have a good week.
-Jeff