Hey thanks for checking out this week's update.  Friday the 13th was so wild!  It was the largest one we've ever done by far.  We opened at noon to a line of about 20 people and they just kept coming all day.  The plan had been to keep it going from noon to midnight but so many people came in and signed up that we were forced to stop taking tattoos at 7:30 just to get through the backlog.  Despite how busy it was we still were able to have fun with it.  It's kind of a rare thing these days to see people so pumped to pick a design straight off a flash sheet.  I got a good laugh out of listening to  the tattooers argue over who's sheet was getting the most play.  Everyone worked their asses off and 12 hours (and almost 180 tattoos) later we closed up and went to Roxy's to celebrate.  A huge thanks to everyone who came out and participated.  You guys made this thing a success for us and we really appreciate it.  Keep your eyes on your calendars for the next Friday the 13th.
As for the rest of this past week, it was solid.  The tattooers tattooed, the piercers pierced and the world kept turning.  Here's your pics for the week.
Tattoos by Gabe
Tattoos by Cody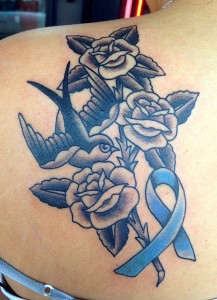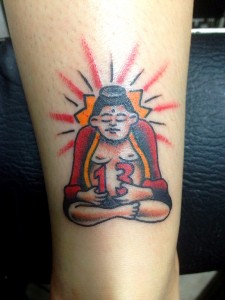 Tattoo by Lars
Tattoos by Phil
Painting/Tattoos by Dan
The only pic of the lobby I had time to take on Friday.  So busy.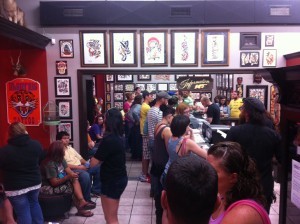 See you all next week.
-Jeff