Iron Tiger Tuesday
Hey guys, thanks for checking out this weeks post.  One of the things I always hear while I'm working the counter goes something like this "I want to get a tattoo that no one else has, not just some piece of flash off the wall."  Well let met let you in on a little secret, a lot of that flash is some of the most original designs you can get.  Everyone has this idea that everyone else that walks through the door just picks something off the wall and calls it a day when in reality that almost never happens.  95% of our flash was hand painted by our artists and has just been hanging there ever since.  So you're not sure what design you want? Find a tattoo you like hanging in our lobby and ask to get it from the artist who painted it and chances are you'll be the only person in town that has it…that and the artist will probably be so happy to finally get to tattoo it that they'll do a god damn back flip. Just something to think over the next time you come in.
Our walk in game was on point this week.  Everyone stayed busy.  Half the shop has been preparing to be out of town this weekend for conventions. Both Iron Tiger and Tattoo You are looking forward to participating in the St. Patricks Day Party, Tattoo Contest & Hospice Benefit at Roxy's on March 17th.  Check out the links for details.
Gabe, Lars, Cody and Ben will be tattooing at The Real Deal Tattoo Convention in Kansas City on March 14th-16th.  On those same dates Moe and Morgan will be at the Salt Lake City International Tattoo Convention.  If you're going to be in either one of those areas this weekend be sure to stop by their booths and hang out for a bit.
Tattoos by Gabe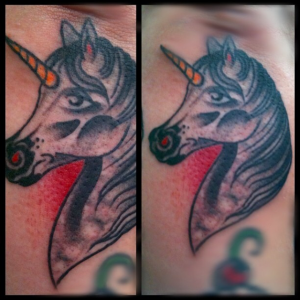 Tattoos/Painting by Cody
Tattoos by Morgan
Have a good week guys.
-Jeff