Iron Tiger Tuesday
Hey guys, thanks for checking out this weeks post.  Gabe and Lee spent most of the week working their asses off to put the finishing touches on Tattoo You.  I'll have more details on when it'll be opening soon.  Dan spent the weekend tattooing at Evermore Gallery in Edwardsville, IL.  Even though Columbia's basically been a deep freeze for the last week or so, everyone still managed to stay busy with their own projects and the walk-ins that felt like braving the cold.  We've got a lot of exciting stuff on the horizon so keep your eyes pealed.
Remember guys, we do walk-ins all day every day so come on in and we'll get you laced up. 573-499-1200.
Tattoos by Cody
Tattoo by Colin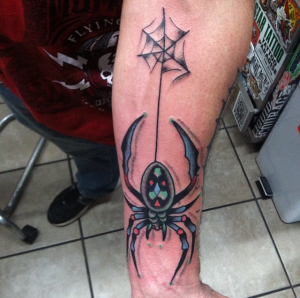 Tattoo by Ben
Tattoo by Moe
Tattoo by Morgan
Painting in the works by Lars
Tattoos by Dan (done at Evermore Gallery)
See ya next week.
-Jeff